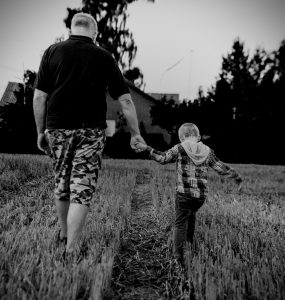 We are excited to announce the winners of our inaugural Father's Day essay contest. Just like the Mother's Day competition, this was not an easy decision to make. We received so many amazing entries, and we thank everyone for their participation.
WINNING ESSAY:
Amy DeRego, United States Naval Officer:
When I think of my father figure I think of Brad Paisley's "He Didn't Have To Be," a song about a spectacular step-dad's vital role in creating a happy family. My mom married Donny when I was seven years old. My biological father has always been in my life, but his lifestyle hasn't always been consistent. When my biological dad failed to pay child support, Donny covered new school wardrobes, family vacations, and my health insurance. He never complained. He has always loved sharing his home, boat, four wheelers and, most importantly, his time with my brother and me. When I was in high school my alcohol addiction tore my family apart. It took police intervention to coerce me into an inpatient facility. Donny and my mom made the forty-five minute drive to my rehab facility twice a week for 10 months to visit with me and attend group therapy sessions. Though never the "tough love" type, Donny supported and loved me through every good decision and dumb mistake I made, drunk or sober, without enabling me. With Donny's support our family is healed, I am eight years sober, I am an officer in the United States Navy, and my son FrancisPio has the world's best grandpa. Donny taught me how to give unconditionally, how to guide without controlling, and how to accept and enjoy life no matter what it hands you. "Lookin' back all I can say/ About all the things he did for me/ Is I hope I'm at least half the dad/ That he didn't have to be."
RUNNER-UP ESSAY:

Caron Garcia Martinez, Washington D.C.
When I think of my dad, I think of a man who loved deeply and suffered greatly. The first in his family to go to college and then medical school, he paid his tuition by repairing cars for my grandfather to sell, and stoking smudge-pot fires to keep the orange groves from freezing in the winter. He'd croon Willy Nelson tunes and quote Wordsworth, bringing tears to his own eyes – "I wandered lonely as a cloud/ that floats on high o'er vales and hills…"
On a rainy night in L.A. in 1968, when I was eight and Dad was 38, he was almost crushed in a six-car pile-up. In the hospital for months with back injuries, he got hooked on Demerol. His doctor friends realized too late, discharged him and sent him home, and he began to self-medicate so he could work. He'd get to the O.R. early just to scrounge drugs from patients, then turned to self-subscribing and got caught. After losing his medical license, he left us and drove around Central California giving physicals to farm workers for $5 a pop to help my mom with bills. By then, he was shooting heroin to ease his pain.
Dad pulled himself back from the edge after a suicide attempt. He found a methadone program near downtown L.A. to start rehab. We had always seen him laughing with people ranging from construction workers to lawyers, and he could talk to anyone. Befriending his fellow addicts from Skid Row didn't faze him. One week in 1978, he went cold turkey off methadone so he could petition to get his medical license back, and return to practicing medicine. He became the first doctor in the state of California to achieve that level of redemption.